Welcome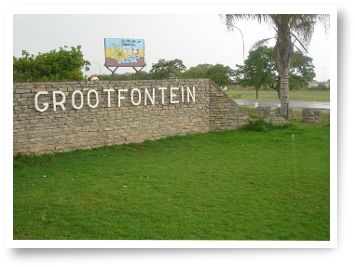 Grootfontein is located in the north-east of Namibia in a lush green environment. The town is situated 1,430m above see level in a good tropical climate, and is blessed with an annual rainfall of 500mm and higher. In summer Grootfontein is turned into a lush paradise of purple, blue, red and green hues as Jacaranda and Flamboyant trees bloom.
The district is abundantly endowed with wildlife and game, while the district is well known for its cattle and crop farming. Grootfontein is a well-developed town and forms the gateway to the north-eastern parts of Namibia. Passing through Grootfontein, many a traveler and visitor is often enticed to stay a bit longer to rest and refresh themselves before continuing on their journey.
On this Website
The website provides general information about Grootfontein, its history, its infrastructure, tourist attractions, business ventures and municipal services. The site also reflects some of the main news and community events through its news pages, while visitors to the site and the town are welcome to share their thoughts and experiences of their time in Grootfontein.
The website also serves as direct online contact between the Town Council, residents and businesses. Should you require more information or wish to send your comments to the municipality, do so through the feedback form.
Follow us on Facebook and Youtube