Overview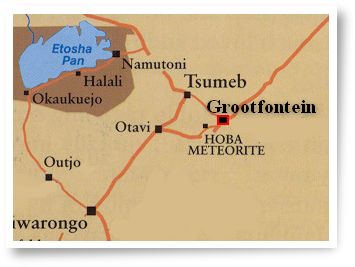 Grootfontein is located at S 19° 33,808′ – E 018° 06,397′ and is one of six districts in the Otjozondjupa region situated in the North-east of Namibia. Three of these districts are centred around major towns, with smaller towns and settlements in the other districts. Grootfontein is the main centre in a relatively large district of 2,564,600 hectares. The town is situated 1,430m above sea level in a good tropical climate.
Notwithstanding the occasional drought, Grootfontein's annual rainfall is 500mm per year. In good years the rainfall sometimes rises up to 1,000mm and more. The summers are usually hot to very hot (30°C to 38°C average day temperature) and mild winters (1°C min.) Grootfontein is a beautiful town. During spring the Jacaranda and Flamboyant trees flower, bathing the town in a swathe of purple, blue and red hues.
Grootfontein's orginal Herero name was 'Otjiwanda Tjongue' which means leopard's crest – as the area has a high density of these agile cats. However previous San and Damara/Nama groups named the area of Gei-/ous which translates as large spring or fountain, hence the Afrikaans translation to Grootfontein.
Grootfontein is the centre for a large cattle farming community while copper mining is also prevalent in the area. The area receives considerably higher rainfall than parts of Namibia situated further west and south and contains much of the country's best commercial farmland. The district is abundantly endowed with wild game from the Damara Dik-Dik (the smallest antelope) to the Eland (the largest antelope.) Smaller predators such as the South African Lynx and Jackals, while Cheetahs and Leopards are sometimes spotted by famers in the vicinity. Wild birds and pigeons, including some of the most beautiful weaver- species in the world and guinea-fowl make Grootfontein a must-visit for birdwatchers.
Grootfontein is a well-developed town with an infrastructure that can cope with any development. All municipal services and well-maintained gravel- and tarred roads are available.
The community is a typical multi-cultural one with all ethnic groups represented. The cosmopolitan community is mostly fluent in the official language, English while most people speak Afrikaans and/or some of the local ethnic languages.
| | |
| --- | --- |
| Total population of town: | Est. 25,000 people |
| Total population of district: | Est. 35,000 people |