Council
Grootfontein Councillors

Each constituency in the Otjozondjupa has an elected regional councillor who sits on the regional council with its headquarters in Otjiwarongo. Two regional councillors from each of the 13 regions in Namibia are elected to the National Council in Windhoek, as second house to the parliament of Namibia.
A democratically elected parliament as legislative body and a cabinet of ministers under the Prime Minister (executive body), all under an elected president, forms the central government that governs Namibia from Windhoek.
The Grootfontein Town Council consists of seven elected councillors that represent seven different wards within the Grootfontein District. The Council is responsible for political and executive decisions regarding the municpal services and development of the town.
NEWLY ELECTED COUNCILORS OF THE GROOTFONTEIN MUNICIPALITY – 2012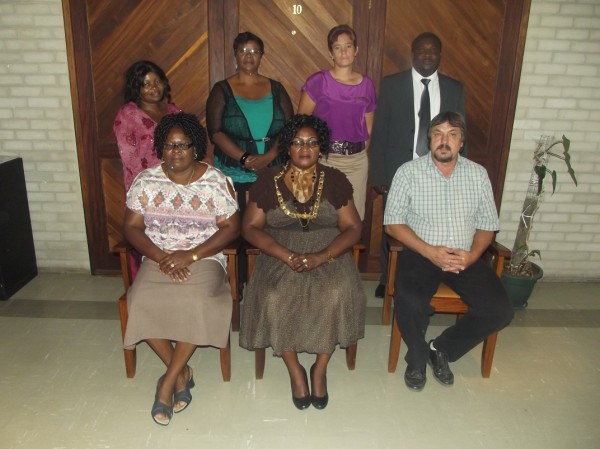 Sitting: From Left to right
Councilor Emma Taukuheke as the Mayor and Chairperson of Council
Councilor Penny Popyeni Mwazi as the Deputy Mayor and Vice-Chairperson of Council
Councilor Gert Johannes Spangenberg as the Chairperson of the Management Committee
Standing: From left to right
Councilor Pricilla Gaweseb as a Member of the Management Committee
Councilor Analise Mariechen !Garas as a Member of Council
Councilor Ginzia De Bruin as a Member of Council
Councilor Absai O. Haimene as the Vice-Chairperson of the Management Committee