History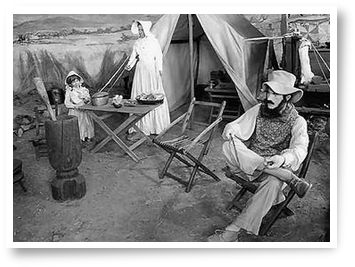 Grootfontein used to be known by its Damara/Nama name of Gei-/ous. Later, Afrikaner trekkers called the place Grootfontein which like the Damara/Nama name means "Great Spring". In 1885 40 Afrikaner families from the north-west of South Africa settled in the Grootfontein area. They were part of the Dorslandtrekkers who were heading towards Angola.
However when the Angolan territory fell under Portuguese control, they turned back and establish the "Republic Upingtonia" at Grootfontein on 20 October 1885. The settlers then changed the name to Lijdensrust and enjoyed the protection of the German colonial administration. Relations between the settlers and the Germans became strained and in June 1887 the Republic was dissolved. When the German colonial administration withdrew its protection the trekkers abandoned Grootfontein and returned to Angola.
Various ethinic groups, including the Herero and Owambo tribes, sought control over the area because of its grazing potential and nearby copper-ore deposits. But in 1893 Grootfontein became the headquarters of the South West Africa Company.
A prospecting expedition financed by both British and German interests led to the establishment of copper mines and the sale of ranchlands in the area in the late 1890s and early 1900s. Within the following decade mining operations started in the Otavi Triangle region. The Germans quickly took control and established a military base as a gateway to the Caprivi Strip.
Grootfontein officially became a town in 1907. With its ample rain, grazing and excellent soil quality the town soon become a centre for cattle grazing. With the advent of rail transport is was quite natural that Grootfontein would be the main railway terminus for northeastern Namibia.
Today the town still functions as the shipping point for timber products arriving from Kavango-inhabited areas farther to the northeast, while copper and lead mined west of Grootfontein are smelted at Tsumeb. The former vanadium and lead mine at Berg Aukas north of Grootfontein closed in 1978. Local industries produce meat, dairy products, sorghum, peanuts, sunflowers and leather goods.